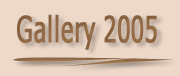 DECEMBER
At the weekend we had small baby meeting in Stromovka. Girls from Klamar Garden, Gary z Jindřichovských luk and Aga with Dixi. She go with us and Míša with pack, but Eny gone something with footpad, so that they have to go home.
A here's some few photo...
Dixi and Gary
Agata and Azalka, girls from Klamar Garden


They are delightful...



This weekend we had mini springr meeting in Hostivař. Attendance: Azalea, Robin, Peta, Agathka and Dixi.
Attempt to pair collective photo. Indeed any glory...


Aga be at home very tired, so that she must eat in sat.
Most beautiful and best moment. Girls sleep...



NOVEMBER
In November we were on a excursion near mine sister in Beskydy. There was nobly... Girls fun the fresh air, but largely.... SNOW!!!! Dixi seen snow for the first time in life and very liked her.
Snow Queens

On walks to the Stromovka.

S Nora in the field in Hostivari.
Azalea


OCTOBER
Autumn artistic photos from Kavci mountains.

Walk in Hostivar - on pheasant.
Girls on hunt

This year perhaps last on cottages.
Autumn beauty...

Photos from weekend on cottages.
You want kiss???

AUGUST
Gary and Dixi


On walks
Much good flower-pot, only in him isn't nothing good...

AUGUST
Back from holidays. Week with girl was perfect... Walks after wood, after green field, to the pub on beer, on football... I think, that week with us girls like. Also we are was with Dixinkou on operation, she should have exomphalos. Dixi is ours mivvy!
Dixinka after operation.
Our small gardener.
Beautiful moment... girls sleep

My favourite palm.
Dixi with of his first buffalo dice.
Dixi first on Kavci mountains.

Dixi in new home
Dixi teach from Agatha quickly...

JULY
Aga learn sadly jump to the waters...

DIXI - 6 weeks.

First visit to DIXI. She's wonderful.

Bathing in sand-pit

JUNE
11.6.2005 she was born ours DIXI. Here they are first photos - 4 days.

On July we are go on holiday to the Croatia and Aga go with us. Was it perfect and the week us much liked.
This way Aga rampage all week
On a trip in Rovinji
Ice cream
Aga barks
It's coziness...
Aga & medusa
Aga & hedgehog
Little romance in conclusion

Gremlins
Aga and Indy

MAY

APRIL
On April we are go on visitors to cousin on farm to the Czech paradise. Too we are were on a trip on castle Trosky.
Collective photo.

Ours everyday walk on Kavci mountain.


A again on cottages.
Love on first look...
Marek, Asta and Aga
Our guard

MARCH
After long waiting come to spring, so that we are start on cottages.
Agatha find much new friend here...

JANUARY
First snow

Agatha with our best friend bull terrier Indy
Big fatigue